MEET EMBER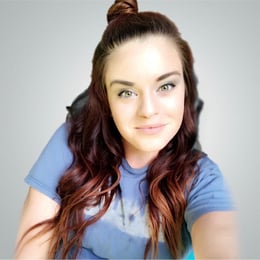 Ember Parr of Web Development Cohort 43 was a Marketing Manager for a local medical spa where there was a severe lack of digital solutions for her job. When she began teaching herself how to build some custom solutions for her problems at work, she discovered a love for tech, and started to consider pursuing a tech career.
"I was very dedicated to the MedSpa & had no plans on leaving...until 2020 blew the world up, forcing the owner to close the MedSpa's doors for good," she recalls. "When [they] closed, I had unexpected free time to research different paths into the tech field. Nashville Software School (NSS) was so highly recommended, and with such a heavy focus on career development, it was an obvious choice."
THE NSS EXPERIENCE
"I loved the group projects at NSS so much," Ember shares of her time in the full stack track of Cohort 43. "Choosing tickets with teammates and working together to create individual components and then bringing it all together for a full working application was so satisfying," she smiles.
Like many beginner developers before her, Ember struggled with the dreaded "imposter syndrome." Coming from a background in management, she shares,"I found myself struggling with the idea of being a 'beginner' again." Her instruction team and classmates played a key role in helping her overcome her roadblocks and come out stronger on the other side.
You CAN do this! Don't be stubborn, ask for help when you're stuck. Take a break from problems you're stuck on, the code becomes a lot more clear with fresh eyes.
CAPSTONES
Ember's front-end capstone project, Totelly, is a home organization application that allows users to log household items and list where they belong in their home. She created her app using React.js, Semantic UI, and JSON Server.
Shelf Help, Ember's back-end capstone, is built as a sister-app to her front-end capstone. Shelf Help gives users easy access to see what ingredients are in their pantry as they plan meals for their family. "The goal for this project was to utilize data from an external API (Spoonacular) and tie the information together with my SQL Server database," she explains. Ember used React.js, ReactStrap styling library, C#/.NET, Entity Framework Core, Postman, SQL Server Express, and numerous NPM packages to create Shelf Help.
HIRE EMBER
Now a graduate of Web Development Cohort 43, Ember is excited to spend her time searching for her first job in tech while continuing to check things off of her "to-learn" list, such as unit testing, cyber security, and strengthening her understanding of data structures.
"My dream job is mostly remote, working with a team to create digital solutions to complex problems," she shares. "I want to work with up-to-date technology and find myself more excited about back-end opportunities than front-end work."
Learn more about Ember by visiting her website or listening to her podcast!
---
Check out all the recent grads at Full-time Web Development 43's class website and hear the graduates share their experience at NSS and capstone projects in their podcasts below.