We're catching up with some of our alumni and sharing their advice for our students and recent graduates.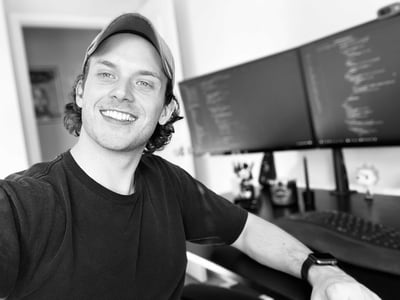 Austin Blade of Web Development Cohort 29 ran his own screen printing business prior to graduating from NSS and becoming a full stack developer. Two years later, Austin takes a moment to reflect on his time at NSS and the beginnings of his tech career.
PREPARED FOR REAL-WORLD WORK
"Nashville Software School (NSS) did a great job of mocking a real-world environment for a software developer," shares Austin, having been in his full stack developer position for two years since graduating from Cohort 29. He speaks highly of how NSS was able to emulate a real, working environment, making his transition from bootcamp to his first, and still current, job as a software developer easier.
LEARNING ON THE JOB
After graduating from NSS, Austin was fortunate to land a job that not only used the stack he studied in bootcamp, but work in a place where he's been able to learn and grow as a developer. "I've really honed into those skills, expanded my knowledge to more complex patterns and use cases for those technologies," he explains, "[I've also] learned a multitude of other technologies from Azure DevOps tools, to testing frameworks like Cypress, to third-party tools like Send Grid and Apify for business specific needs."
However, one of the most important things Austin has learned from his first job in tech, is the importance of good leadership and healthy team dynamics. "I'm incredibly grateful for the team that I work with," he smiles. "Their patience and encouragement have much to do with the level I'm at today in my journey in software development." Austin encourages recent NSS graduates who are in their first tech job search to keep an eye out for a "good boss and a good team."
WORK, NOT-WORK & NETWORKS
NSS encourages graduates to always be working to hone their skills. Austin likes to keep busy in his free time with personal projects such as his personal website, as well as helping friends build sites for their personal projects. "I've come back to help with common-tables, tutoring, and mentorship at NSS, and I write blog posts whenever I find something interesting that I feel might spark the interest of someone else," he adds.
Since the pandemic has left us all hungry for socialization, Austin stays connected to his networks of fellow developers by participating in online groups and message boards. "There are tons of Discord servers, Slack channels, and other social communities online all full of people interested in the same things you are and lots of people are eager to help."
A few of Austin's favorites are the NashDev Slack Channel, Kent Dodd's Discord server, and Gatsby's Discord server.
Thanks for catching us up, Austin, and for all you do to support the next generation of NSS developers!