MEET OWEN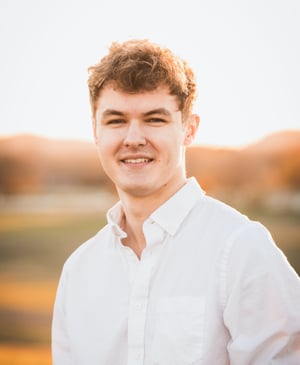 Owen Walker of Full-time Data Analytics Cohort 2 wasn't always interested in data. Prior to attending Nashville Software School (NSS), Owen explored a few different paths before discovering what he wanted to do with his career. "I went to Columbia State Community College with a major in Chemistry, then I remembered I was terrible at chemistry in high school," Owen laughs. Seeing that Chemistry was not the path for him, Owen began a computer networking course at his community college after he developed an interest in computers while building his own gaming PC.

When computer networking turned out to be not as challenging for him as he expected, Owen's grandfather brought him a new idea in the form of a newspaper clipping. "He said, 'here, you need to read this. It seemed like something you'd be interested in.'," Owen recalls. The article that Owen's grandfather shared was citing an NSS alumni who was now into robotics. "I thought it was really cool, learning about data and figuring things out [and wanted to check it out.]"

With the encouragement from his grandfather, Owen applied to attend NSS's Full-time Data Analytics program. "Timing was perfect, and I honestly couldn't be [happier] with how things went," he smiles.
THE NSS EXPERIENCE
Owen shares that his favorite part about his NSS experience was "Learning how to use the new programs and software." He encourages current students to "Use your free time to practice if you feel like you're struggling. Also ask your peers for help!"
CAPSTONE PROJECT
Using Python and Power BI, Owen wanted to find how companies decide who to sponsor on social media, specifically Twitch streamers. "I built this project because I, myself, am a Twitch streamer and I wanted to see what the process was like to be sponsored by a company," Owen explains. He gathered data by looking at the average amount of viewers a popular Twitch channel has per stream and games that are streamed the most. "Originally I was going to use web scraping," Owen recalled. But after finding an API, he was able to utilize their data sets.
Once he analyzed the data, Owen was able to see that the amount of followers wasn't the only important thing when companies are looking for streamers. "When looking at the data, I was able to find the person with the most followers and then thought about looking for who people watch the most," he explains. "I did some more digging and found the person with the highest average watch time on Twitch and decided they were worth looking into." Owen discovered that individuals with the highest watch time also play the games with the highest number of viewers, making the decision easy for who he would pick as a sponsorship candidate. "I found this interesting because the two pieces of info I looked for were very different but also connected to each other which aided me in finding the person I believe is perfect [for a sponsorship deal]," he smiles.
HIRE OWEN
Since graduating, Owen continues to improve upon his data analysis skills by finding interesting data sets to explore and is excited to find his first job in data analytics.
I am looking for a position to challenge me in a team-based setting, as well as boost my creativity in the data analytics world!
Learn more about Owen by visiting his LinkedIn profile or listening to his podcast!
---
Check out all the recent grads at Full-time Data Analytic Cohort 2's class website and hear the graduates share their experience at NSS and capstone projects in their podcasts below.