MEET LUKE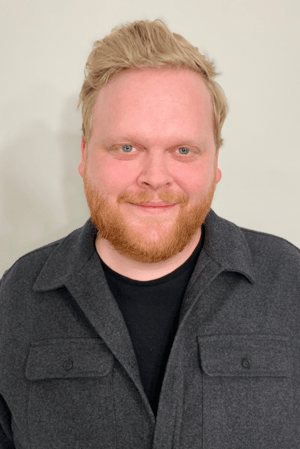 Luke Zvada was traveling the world as a tour manager responsible for all logistics and financial decisions for 150+ shows a year. When COVID-19 hit, Luke found himself in London with 15 of his teammates scattered across the UK. It was his job to get them all home. "I successfully evacuated my team [and] when we were flying home, I decided that it was time for me to make a career change," Luke remembers.

And he didn't have to look far. Before he was a tour manager, Luke was a sound engineer who programmed audio consoles to use automation during shows. "This was where I found a love with programming, however, I really wanted to take it a step further," he smiles. 'I decided to explore the path of being a software developer, which led me to Nashville Software School (NSS)."
THE NSS EXPERIENCE
Luke shares that his NSS experience was shaped by the people he shared it with...his classmates. "Most of us came into this program with very little knowledge," he says. "We all helped each other get over roadblocks together which made the learning experience an unforgettable one."
His C42 classmates were also the people that Luke leaned on when he encountered difficulties along his learning journey. He recalls, "At the time, we were dealing with event listeners in Vanilla JavaScript. Luckily, through the help of classmates and the school's curriculum, I got over this rather quickly. [I spent] about 3 days of asking myself 'what have I gotten myself into!', but then [those thoughts were] a thing of the past."
When asked what advice he would pass on to current students, Luke shared, "Don't stress if at any time you feel lost. Trust the program. Do as much of the extra chapters as you can because they are there to make the learning experience even better. Always ask for help, but try asking classmates first to build relationships with them."
CAPSTONE PROJECTS
TourVana is Luke's front-end capstone project that he built to connect tour managers with an artists' day-to-day managers, and business managers. The application displays deal memos, settlement reports, and gives users the ability to build expense reports. "The ultimate goal was to make it simple to use while on the go since a tour manager's office moves every ten minutes," he laughs. Luke built TourVana using JavaScript, React, Chart.js and Figma.
For his back-end capstone, Luke created PilotLog, which is a digital flight log for pilots and general aviation enthusiasts to log their flights, get real time METARs, and airport information.
"I come from a family of aviators. I am actually planning to get my private pilot's license," he shares. "I wanted to simplify [paper log books] and make them digital so that you can never lose it." Luke built PilotLog using JavaScript, React, Python, Django, Material-UI, Figma, and Bootstrap. He also used AVWX API to pull the airport information as well as the METARs.
HIRE LUKE
Since graduating, Luke has started learning the foundations of UX/UI Design. "I want to eventually get into a design position down the road," he explains. For now, Luke is ready to dive into a front-end or back-end position, and wants to keep learning and growing as a developer.
I really enjoy making good experiences happen for people and I have found a way to do that as a software developer. This leaves me extremely excited for my future endeavors.
Learn more about Luke by visiting his website or listening to his podcast!
---
Check out all the recent grads at Web Development Cohort 42's class website and hear the graduates share their experience at NSS and capstone projects in their podcasts below.