MEET CLINT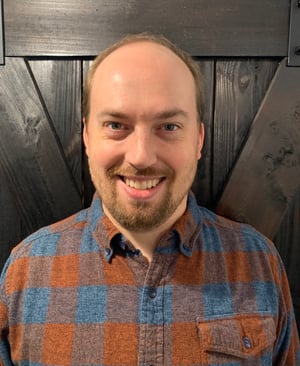 Working as a deli clerk at Publix, Clint Nanney of Full-time Data Analytics Cohort 2 was ready for a career that was less physically demanding and challenged him more intellectually. As a sports fan, Clint has always enjoyed sports statistics. So when we started to explore new careers, telling stories through data analysis intrigued him.
"I've always been fascinated by data," he shares. "After a little bit of research, I found a lot of good reviews about (Nashville Software School) NSS on Reddit."
THE NSS EXPERIENCE
Clint shares that his favorite part of his 3 month journey through the Full-time Data Analytics program was his fellow classmates and the instructors of his cohort that he got to know and learn with. "I have never worked with such a talented, motivated and awesome group of folks," he beams. "The [instructors] were phenomenal and made the learning experience fun and interesting."
Learning new skills doesn't come easy; there are major challenges one can face while taking on new information and learning to apply it in a short amount of time. Clint faced these challenges head on and was able to overcome them once he learned to ask for help. "There were many times I reached a dead end and thought I just wouldn't learn the material or it was just too hard," he remembers. "Perseverance goes a long way in this course. Once I learned to ask for help and that getting 'stuck" was just the nature of the program, I was able to grow and enjoy the process."
When asked what advice he would give to current or future NSS students, Clint urged them to "never give up," and shared a helpful reminder from Bob Ross:
Talent is a pursued interest. Anything that you're willing to practice, you can do." - Bob Ross
CAPSTONE PROJECT
Clint was able to merge his passion for sports with analytics for his capstone project, NFL Injury Analysis. Since the NFL didn't have it's usual pre-season in 2020 due to the pandemic, Clint was curious about how it impacted the players, and more specifically, if this decision resulted in more injuries in the regular season.
"Getting the data was a little tricky," Clint explains. "Luckily, there's a site called Pro Football Reference that does a good job at a great job with NFL players and statistics." Using data from the Injury Reports and an additional report that gave Clint roster information for each NFL team, such as age, position, salary, etc., he was able to take 2020's NFL data and compare data from the past 6 years. "I would say a good 46-60 hours went into data cleaning," he shared. "The answer I found surprised me. The absence of real-game practice didn't increase injuries. In fact, 2020 finished 4th out of the 6 years I analyzed." Clint used Excel, Python, and Power BI to perform his analysis.
HIRE CLINT
Now a graduate of NSS, Clint is excited to start searching for his first job in data analytics and shares that he will "not be picky" with the opportunities that his new skills will open for him.
Learn more about Clint by visiting his LinkedIn profile or listening to his podcast!
---
Check out all the recent grads at Full-time Data Analytic Cohort 2's class website and hear the graduates share their experience at NSS and capstone projects in their podcasts below.