MEET KATELYN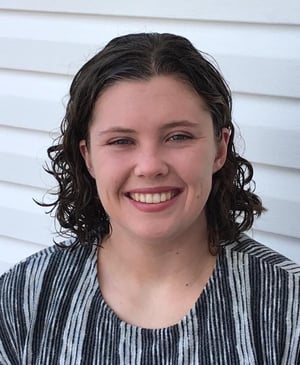 While living in California, Katelyn Dunn of Full-time Data Analytics Cohort 2 took an introductory course in programming at a software bootcamp on the west coast. "I liked it, but it didn't really seem suited to my strengths," she explains. After moving with her family to Tennessee, Katelyn began looking for another local software bootcamp when she discovered Nashville Software School. "[I] saw that NSS [taught] data analytics and thought that sounded very interesting," she recalls. "So I took the Analytics Jumpstart and really enjoyed it!"
THE NSS EXPERIENCE
During her time at NSS, Katelyn found that she enjoyed creating her class projects using real-world data. "It showed me what [an actual job in data analytics] would be like!" she shares.
Learning any new skill can be challenging, and data analytics is no exception. Katelyn admits that some of the technologies taught in the data analytics course at NSS were difficult to learn at first, but after some time and continual practice, she became more confident in her skills with the material.
Practice the skills you've learned to keep them fresh, but know when to rest.
CAPSTONE PROJECT
Having worked with her mother to establish a chicken and egg farm in Mt. Juliet, TN, Katelyn chose to analyze food shortages due to COVID-19 and the impact the pandemic will have on the future of farming for her capstone, Future of Farming. Katelyn found an agricultural census that dates back to 1997. "They go through the ag census every 5 years, so I'm taking data from 2012-2017, about what the top commodities are, the breakdown of what different producers are working on, and the different age breakdown [of the farmers] as well," she explains. Using Excel and Tableau, she analyzed the data from younger farmers.
Katelyn also created a questionnaire to gather more information on young farmers in order to understand how to help spark an interest in farming in young people and how to support them.
HIRE KATELYN
Since graduating, Katelyn has been practicing her skills with Codewars and revisiting her class projects to keep her skills sharp.
"My end goal would be to combine analytics and farming," she explains. Katelyn enjoys the flexibility of working from home and is searching for her first job in Data Analytics in the Middle Tennessee area.
Learn more about Katelyn by visiting her LinkedIn profile or listening to her podcast!
---
Check out all the recent grads at Full-time Data Analytic Cohort 2's class website and hear the graduates share their experience at NSS and capstone projects in their podcasts below.