MEET KIRK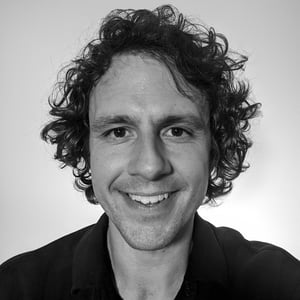 Kirk Sudduth was working as a bar manager at a local gourmet burger establishment in Nashville when he was introduced to the idea of becoming a software developer. "I decided to become a software developer because I want to familiarize myself with the tools to help build the future," he shares.
Nashville Software School (NSS) came highly recommended to Kirk through various friends and acquaintances. "I heard a lot of iterations of 'best decision of my life' when people described their [NSS] experience, so I figured it was worth a shot," he laughs. "It's lived up to the hype. It's been a really nice experience."
THE NSS EXPERIENCE
As a member of Web Development Cohort 40, Kirk shares that his favorite part was being constantly pushed by his instructors and classmates, as well as himself, to achieve goals that he originally "thought to be impossible." Kirk chose to see any "road-blocks" as an opportunity to learn. "I did encounter a lot of learning opportunities... a LOT of them," he exclaims.
When asked what advice he would give to himself before starting NSS, he shared "If you're having trouble with something, don't be afraid to ask (instructors or classmates) for help."
No one knows everything. You can absolutely do this.
CAPSTONE PROJECTS
Curiositan is Kirk's front end capstone project he created using React, Semantic UI and CSS. The application allows users to easily view and save photos of Mars from the Mars Rover, Curiosity, that has been on the Red Planet since 2012. Kirk's idea for the application came from his affinity for space exploration. "It was a lot of fun learning and using React," he says of his process making Curiositan. "I look forward to tidying things up and adding new features in the code as my knowledge expands and I've learned more."
For his back-end capstone project, Kirk built PawPal. The Python application allows pet owners to keep track of their pets' daily activities such as exercise, eating, and resting. Kirk built PawPal using Python and Django.
HIRE KIRK
Since graduating, Kirk has been brushing up on his JavaScript skills while starting a Python automation project as he searches for his first full-time job as a junior web developer.
Learn more about Kirk by visiting his website or listening to his podcast.
---
Check out all the recent grads at Web Development Cohort 40's class website and hear the graduates share their experience at NSS and capstone projects in their podcasts below.