MEET MICHELLE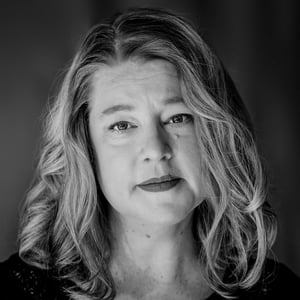 After taking some time off from her career in mental health to raise her family, Michelle McLane Brownlee of Web Development Cohort 40 decided it was time to re-enter the workforce. "I decided to put my creativity and problem-solving skills to use in a different way," she explains. "Software development is all about solving problems for people."
Michelle had been aware of Nashville Software School (NSS) for a long time. "I even encouraged my nephew to go through last year to find a new career," she laughs. "I decided to take my own advice."
THE NSS EXPERIENCE
Michelle speaks fondly of NSS's non-traditional approach to learning. "It wasn't about studying terms and taking tests on concepts. NSS is all about writing code, breaking it, and fixing it again," she shares.
The fast-paced learning environment bonded her cohort as they worked together to make it to Demo Day. "Even being a remote cohort, we became a team," she states.
When asked what advice she would give to current and incoming students, Michelle shared "DO THE PRE-WORK. Also, ask questions in class. Give yourself grace - this stuff is hard, and it is okay that you don't know what you are doing a lot of the time."
Don't overthink it - put your hands on the keyboard and start trying something and see what works.
CAPSTONE PROJECTS
Inspired by her time creating pottery, Michelle built Glaze Gallery for her front-end capstone project. The application helps potters track projects from how the piece is glazed and fired, to tracking results and the variables during their process. "It helps potters to replicate glaze combinations they liked or avoid combinations that didn't turn out well," she explains. Michelle used React, Bootstrap, and Cloudinary to build Glaze Gallery.
For her back-end capstone project, Michelle leaned on her background in Mental Health to build Anxiety Ease "We are in a time when anxiety is a problem for a lot of people in the US: global pandemic, soft economy, social media, work worries," she explains. "[Anxiety Ease] is a self-help app of calming activities to allow someone to calm down from or avert an anxiety attack." The application features deep breathing, grounding, and progressive muscle relaxation exercises that the user can do to lessen the chance of having an anxiety attack. Users can also take notes about the attack in order to identify their triggers for anxiety and what helped them calm down and are helpful when describing their anxiety to their doctor or therapist. Michelle built Anxiety Ease using React and a Django REST API.
HIRE MICHELLE
Now a junior developer, Michelle is excited to be a part of a team that will mentor her as she begins her new journey in software development. "I look forward to continuing to expand my new skills while working to solve problems in creative ways," she shares. "Waking up every morning to new challenges and continued learning is such an exciting way to start my new career path while utilizing the skills I've developed thus far in my life."
Learn more about Michelle by visiting her website or listening to her podcast!
---
Check out all the recent grads at Web Development Cohort 40's class website and hear the graduates share their experience at NSS and capstone projects in their podcasts below.