MEET RONALD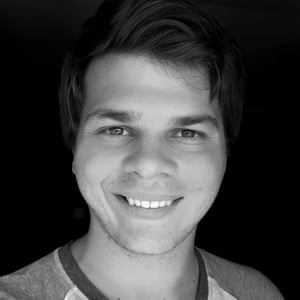 After obtaining his Associate's degree at Hopkinsville Community College, Ronald Lankford transferred to APSU to major in software engineering where he was introduced to programming. He became so excited about software development that he decided to expedite becoming a developer when one of his classmates suggested that he check out Nashville Software School (NSS). "[I] decided that this would be a great route to take to get a head-start in Nashville," he explains.
My passion for technology has grown even more with my career change into software development.
THE NSS EXPERIENCE
When asked about his time at NSS, he shares how it differed from traditional learning, "within the first week [at NSS] we probably went over more than what I did in my little semester of the Intro to Programming 101."
Ronald shared that the team environment of Web Development Cohort 40 helped him become a better coder through sharing code and problem solving. "[I enjoyed] trying to explain my thought process through code and trying to read someone else's code," he says.
Try to not fall into the idea that you are the only one not understanding something. Ask questions and your classmates who were too nervous to ask will thank you.
CAPSTONE PROJECTS
2cents is Ronald's front-end capstone project that helps users keep track of their monthly expenses. Besides tracking your expenses, 2cents allows you to search for stocks and crypto currencies and save them to the homepage for quick access. Ronald built 2cents using React, Moment.js to track dates, and Chart.js to generate the graphs.
His back-end capstone, TravLog, is a Django application created to plan trips that users would like to go on. "I am sure everyone is stuck at home planning trips to take when they finally get the chance to get out and explore again," he laughs. TravLog also allows users to share their trips with friends and copy other trip guides to use as a template to start planning their own adventure.
HIRE RONALD
Now graduated, Ronald is on the search for his first job in web development and has started to learn C# and .NET. He's most excited to work in back-end or full-stack development.
Being faced with a new problem and trying to learn how to tackle it is something that I love about software development. I am looking forward to seeing where I will go in the field!
Learn more about Ronald by visiting his website or listening to his podcast!
---
Check out all the recent grads at Web Development Cohort 40's class website and hear the graduates share their experience at NSS and capstone projects in their podcasts below.