MEET ADRIAN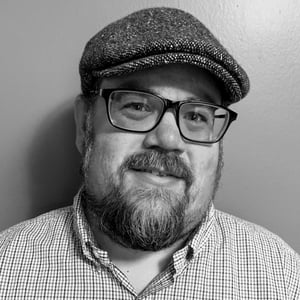 After a 14 year career at FedEx Express, Adrian Garmendia found himself forced to medically retire. However, he decided to not let that hold him back from returning to a career of creativity. "[I missed] the creativity of creating media from my days in television many years ago and Software Development looked to fit the bill," he shares.
Once he heard about Nashville Software School (NSS) from some friends, he was ready to dive in and begin on this new adventure of software development. "Hearing friends who (attended) talk about the NSS experience, also the fact that it is a non-profit, was incredibly important to me."
THE NSS EXPERIENCE
With the first day of class just 3 weeks after NSS went remote for the pandemic, Web Development Cohort 40 was the first cohort to start remotely and be fully-remote. Adrian shares that it was a struggle for him to unexpectedly adjust to the online learning environment. "I just craved the in-person experience and [having] my classmates near me," he shares. "[However,] the instruction team and my classmates supported me and helped me find the path that worked best for me."
When asked what words of encouragement or advice he would pass along to current and incoming NSS students, he shared "You will make it, keep going. The minute you stop is the minute you give up on yourself. Also do the prework!"
The minute you stop is the minute you give up on yourself.
CAPSTONE PROJECTS
Though Cohort 40 was remote during its entirety, that didn't stop them from having a shortage of inside jokes in the virtual classroom. Adrian shares that his front-end capstone, Ma-Houchens, was born from one of these jokes shared between his instructors and classmates. The app he built using React is used to document individuals who have been banned from a grocery store chain. It is meant to be used among all of the chain's stores so that if someone recognizes the offender in their store, they can know what he was banned for and the time and place it happened. "I also used Chart.js to help visualize which stores were having the most offenses happen," Adrian explains.
For his back-end capstone, Adrian decided he should go a more "serious" route and created a project board for a construction company he worked for in college. He explains that users of this project board "can then assign employees to jobs, assign vehicles to the employees and assign employees to departments." Adrian created his back-end capstone using Django, Python, and SQL.
HIRE ADRIAN
Now a junior developer, Adrian looks forward to his job search and learning C# during the process. "This has been an adventure and I want to keep the adventure going," he says. Adrian is interested in full stack web development positions and "would like to find a strong team culture to be a part of."
Learn more about Adrian by visiting his website or listening to his podcast!
---
Check out all the recent grads at Web Development Cohort 40's class website and hear the graduates share their experience at NSS and capstone projects in their podcasts below.