MEET PHILIP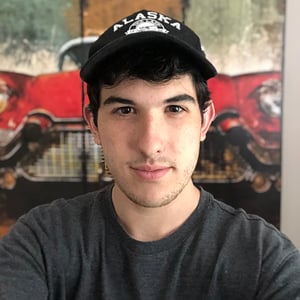 As a musician and audio engineer, Philip Martin was continually intrigued by how technology intersected with his work. Philip saw many of his friends work on the road as web developers during the day and perform at night. After talking with several of them, he was inspired to research it for himself and discovered Nashville Software School (NSS). "This was a drastic change, but I continue to learn more each day in my pursuit as a full stack web developer," he says of his career shift.
Philip found the web development and musician communities closely linked. He explains, "It's the same vibe, it's the same community. You go into [the] web development [community] and you'll meet tons of musicians and you go into [the] music [community] and you'll meet a ton of web developers, it all seems to be intertwined."
There's a lot of people to connect to, there's a lot to talk about, people are interested and understand what you are saying. It's a very good community for that."
THE NSS EXPERIENCE
During his time in Web Development Cohort 39, NSS had to transition to a virtual classroom. Philip had struggled with online learning in the past and was nervous about this change.. However, his online experience with NSS was different. "The staff at NSS were still able to [provide] the education we need to become Nashville's next web developers," he shares. "Being put in real-world tech situations, working in groups, interacting with the teachers, all set us up to be better web developers."
CAPSTONE PROJECTS
For many musicians, it can be stressful to keep up with all the details that come with each show or gig. Philip built Band Tree for his front-end capstone to help musicians keep track of all the details. With the app, musicians can keep track of the set lists, arrangements, key changes, and show details all in one place. They can also add additional notes for when changes are made for a show last minute. To create Band Tree, Philip used React and built an API with JSON.
Moo-V, Philip's back-end capstone, is an app that allows avid movie watchers to review their favorite films and interact with other users on the app and discuss films. "This is a comfortable place for avid film reviewers to share and comment on each other's reviews," he says of Moo-V. Philip created his back-end capstone using C#, ASP.NET Web API, Entity Framework, SQL Server, React, React Hooks, React Router, and Bootstrap/reactstrap.
HIRE PHILIP
Now a junior developer, Philip is most excited to work in back-end development.
"I was kind of intimidated by the back-end but as we got more into it, it really grew on me," he shares. "I definitely would love to work in back-end development."
Learn more about Philip by visiting his LinkedIn profile or listening to his podcast!
---
Check out all the recent grads on Web Development Cohort 39's and hear the graduates share their experience at NSS and capstone projects in their podcasts below.