MEET DEREK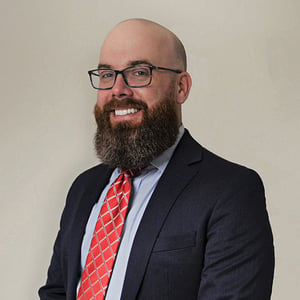 Derek Buckley was ready for a career outside of sales that would improve his quality of life. "I chose software development because it was always something that interested me and I had a little experience with it to know that I would enjoy it," he shares.
Nashville Software School (NSS) was recommended to Derek by a friend who graduated from the school. After thoroughly researching the right bootcamp for him, Derek says NSS was the "clear choice."
With its high success rate of placing people in jobs, reputation in the community for producing quality developers and network of alumni who are involved and willing to help new graduates of the program, I just didn't see any other option."
THE NSS EXPERIENCE
Reflecting on his time at NSS, Derek shares that he considered much of his experience as highlights, "but I think the thing that stands out the most is the relationships I built and the friends I made," he recalls. "I look forward to seeing everyone's success in our cohort."
His six months as a part of Web Development Cohort 39, did not come without challenges. Having moved shortly after NSS was required to shift to virtual classes due to COVID-19, he shares the difficulties he faced when he was without internet for three months. "I was able to find a way to have access to the internet everyday. I had people in the cohort offer to let me use space in their home and even an NSS alum that I had just met offered to help," he shares. "A clear testament to the type of people that NSS has."
When asked what advice he would give incoming and current students, Derek said "Six months goes by extremely fast and there is a lot to learn. Treat it like a job. Stay focused and dig in and spend everyday learning as much as possible. On the other hand, don't compare yourself to how you think other people in the cohort are doing or how much other people understand and follow. Everyone has their own pace and struggles, but every person who finishes will be prepared to take that first role post graduation."
CAPSTONE PROJECTS
For his front-end capstone project, Derek built Takeaways, an app for avid learners. "I read a lot of books and articles on a variety of topics and come across a lot of really interesting information," he explains. "The problem is that there is no way to remember it all. Takeaways gives the user the ability to store information that they encounter through books, podcasts, articles and even personal conversations." The app allows users to organize the information entered by different categories to recall the information at a later date by a simple search. Derek created Takeaways using React.
Derek's final capstone project was inspired by his time as a salesman. "I was told from the beginning that keeping track of my numbers was the most important thing I could do. And then to track it, they gave me a sheet of paper," he laughs. "I thought, 'this is kind of ridiculous. There should be a tool that can do that.'" The app keeps track of the sales activities that the user enters and provides a success rate for every part of the sales process as it charts the numbers for the user. "I spent a lot of time on the back-end," he shares. "The project uses React on the front-end with Firebase Authentication. The back-end is written in C# using ASP.NET Core Web API, as well as Entity Framework to interact with a SQL database."
HIRE DEREK
Now a junior developer, Derek is adding features to his back-end capstone project while searching for his first job in tech! He is open to any opportunities that will allow him to continue to grow as a developer.
"As someone who loves to use logic to solve problems and loves to always be learning, moving into web development was a natural progression in my career path."
Learn more about Derek by visiting his LinkedIn Profile or listening to his podcast!
---
Check out all the recent grads on Web Development Cohort 39's class website and hear the graduates share their experience at NSS and capstone projects in their podcasts below.