MEET DIEGO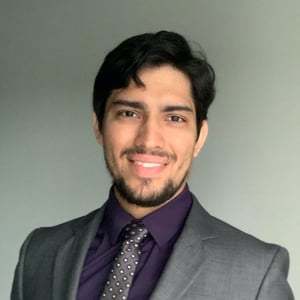 Diego Alvarez has developed many skills throughout his career. After graduating with an engineering degree, he became a Supply Chain Manager for one of the largest consumer goods companies in the world. "I developed a lot of great 'soft skills' (leadership, project management, relationship management)," he says. "I decided I really wanted to accelerate developing more technical skills (with an engineering background, I missed more technical work!), and that led me to Nashville Software School (NSS)."
Diego shares that he was drawn to NSS for the "great results they've had in the past, and the transparency of sharing that info. While Data Analytics is newer, the great results they've had with graduates getting a job soon after graduation made me feel comfortable investing the time and money."
THE NSS EXPERIENCE
Diego applied to NSS specifically because it was an in-person bootcamp. "COVID had other ideas," he laughs. "Still, NSS handled the transition to Zoom classes very well, making sure everyone was set up for success."
As a part of NSS's first full-time Data Analytics cohort, Diego shared that his favorite part of his 4 months of bootcamp was learning the new technologies and specific skills and tools currently used in the industry, and how he was taught all of them by his instructors. "Being able to apply the skills to projects using real-world data, is huge," he gleams.
Put in the effort and collaborate with others, as it's always a great way to learn. There's often more than one approach to everything."
CAPSTONE PROJECT
For his capstone project, Diego wanted to take a different approach than the traditional Data Analytics student. Instead of analyzing data to answer a series of questions, he built Streaming Wars, a dashboard that helps individuals analyze what streaming service is best for them based on their personal preferences. He decided this was an important topic to help people analyze and explore the many streaming options to choose from. "[With the Streaming Wars dashboard,] I have enabled people to analyze for themselves and see which service has more shows and movies that they will like," he shares.

Diego built Stream Wars using Python to web scrape data, manipulate it, and reformat it and brought his data into Tableau to construct his dashboard.
HIRE DIEGO
Since graduating from Full-time Day Data Analytics 1, Diego has begun his search for a job to apply his new analytical skills! As he is on the job hunt, he continues to practice and learn new skills with Codewars challenges and online courses.
Learn more about Diego by visiting his LinkedIn profile or listening to his podcast!
---
Check out all the recent grads at Full-time Data Analytics 1's website and hear the graduates share their experience at NSS and capstone projects in their podcasts below.