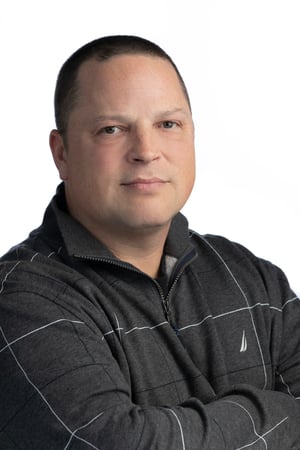 MEET John
Many students have stories of friends or family members recommending Nashville Software School (NSS) to start their career in web development. For Web Development Cohort 36 graduate John Long, his family ties to the school are strong. After years of hearing his sister Brenda Long, an instructor at NSS, share how impressed she was with the success of NSS' graduates, John was ready for a change himself. "I came to NSS and experienced a front-end capstone demo [day] and was hooked," he explains. "By the second presentation, I had decided, 'don't know how they do it, but I want to find out'."
Eleven days later, John attended a 3-week Jumpstart and followed that with the full stack bootcamp. "I have always loved solving problems and learning new things. Web development has opened pathways for this that I could never have imagined."
The time had come for me to make a change and take control of my own future, and nowhere could have been better than NSS."
The NSS EXPERIENCE
John speaks fondly of the relationships he built during his time in Cohort 36 and rediscovering his love for learning. "A growth mindset isn't just about learning code," he states. "It fundamentally changes how you approach every bit of life."
When asked what he would share with incoming NSS students, he said, "believe in the path in front of you. There is nothing you can't achieve if you trust yourself, and put in the work. The process of NSS isn't easy, but it is attainable."
Capstone Projects
That's My Cue is John's front-end capstone project inspired by his love playing pool. For casual pool players, any old cue stick will due. But for more seasoned players, custom cues are what you strive for. "When I began the process of buying my first custom cue 4 years ago, I had no idea where to start or even who to contact to get that information," John shares. "There is no centralized source of builders or cue types on either the web or Facebook to look for ideas."
"The app's purpose is to help anyone interested in purchasing a pool cue stick become more familiar with both the design aspects of a cue as well as the different builders associated with them," he explains. "A user will be able to not only view different styles of cues, but get the builder contact info, save examples of the builder's work, and make notes regarding build times and cost for a new cue purchase." John built That's My Cue with React.js and styled it with React-Bootstrap and CSS.
StatLock is John's back-end capstone project that allows pool team-captains to evaluate the team's players by their performance in one, easy to access app. "For the American Pool-players Association pool league, ratings are based on a player's most recent 20 matches." he explains. "The current APA app allows a player to see the current session's wins/losses (max 16 weeks) or a lifetime view. There is nowhere to see an accurate view of the last 20 matches played without manual tracking. For the last 5 years, my wife has tracked each player's performance on an Excel spreadsheet, but I believed there should be a better way." John built StatLock with Python/Django and styled it CSS and Bootstrap.
HIRE John
John continues to build his development skills by working on a full stack app he plans to deploy for applicants to track the jobs they have applied for, as well as working through the AWS Developer materials towards an AWS certification. Regardless of where he lands, he is excited to continue learning and growing as a developer.
Learn more about John by visiting his website or listening to his podcast.
---
Check out all the recent grads on Web Development Cohort 36's class website and hear the graduates share their journey into development and their experience at NSS in their podcasts below.