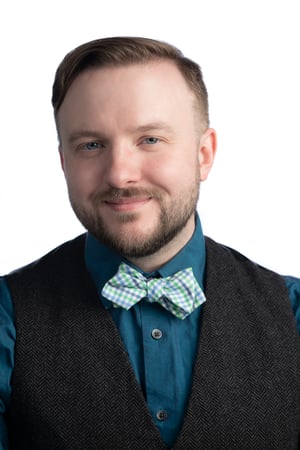 MEET James
Most of the students who attend Nashville Software School (NSS) have ties to Nashville, but Web Development Cohort 36 graduate James Chapman made an 800 mile leap to attend bootcamp.
Having been in the restaurant industry for 17 years, he decided to go back to school and discover a career he would be passionate about. After taking some beginner courses at a community college in Ohio, James realized coding was the career for him. But attending classes with a full-time job and a daughter proved to be difficult. "I decided to take a chance and move 800 miles to a new city and participate in the NSS [web development bootcamp]," he explains. "I am so thankful that I found coding and just the bootcamp in general, because it's helping me get past an industry which was hit the hardest [during the pandemic]."
NSS EXPERIENCE
It takes a lot of confidence to move to an entirely new city for a bootcamp. James shares that he chose NSS "because of the reputation that it has and the atmosphere that they have built."
Like many graduates, he speaks fondly of the people he met while attending NSS and liked the intensity of the program that taught him how "to rely on the people around you."
James recalls the challenges he faced during his time in Cohort 36: "Of course there were tons of times where the imposter syndrome would take hold, especially when you are getting errors in your code," he recalls. When asked what advice he has for incoming NSS students, he shared that it is important to "take a break every now and then, you will be surprised with how much more things will make sense when you come back [to them]."
Capstone Projects
tipOff is James' front-end capstone project inspired by his time in the service industry. "I worked in the restaurant industry for 17 years and would have 100% used this app to help keep track of tips through the year," he states. Since service industry employees have to report how much they make in tips over the course of the year, James wanted a simple way for users of tipOff to keep track of tips, hours worked, and clients served. He created his front-end capstone using React.js, Bootstrap, Tachyons, and Chart.js to graph out tip amounts over months/years.
For his back-end capstone, James created FamilyCB (FamilyCookbook), a web app to share recipes in a virtual cookbook so that all your family members can have access and contribute. James had the idea for his back-end capstone after listening to his mother talk about the need to share family recipes between everyone in their family.
"Growing up in a large family, we spent much of our quality time in the kitchen and cooking together," he shares. "Now that we are grown, we find we aren't in the same place much but want to share recipes." FamilyCB is a Python, full stack web app with Django framework and styled with Tachyons.
HIRE James
In his free time, James has been working on adding features to his capstone projects while learning Java. He is excited to continue learning as he starts his job search in the tech industry.
While he enjoys back-end web development the most, he is happy to start any full-stack job where he will continue to grow and sharpen his coding skills.
Since moving to Nashville and starting NSS, I have learned so much! I have increased my ability with HTML and CSS, have a better understanding of JavaScript and React."
Learn more about James by visiting his website or listening to his podcast!
---
Check out all the recent grads on Web Development Cohort 36's class website and hear the graduates share their journey into development and their experience at NSS in their podcasts below.