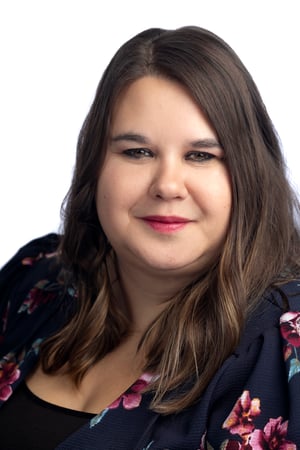 Every graduate has a unique story that leads them to a new career in tech. For Web Development Cohort 35 student Lauren Maxwell, it was a journey of trying different career paths that served others and advice from friends that led her to where she is today.
MEET LAUREN
Lauren lived in France where she studied French for three years. Once she moved back to the United States, Lauren worked as a nanny. After helping a friend organize their basement, she pursued a career with an organizational company. While she enjoyed the work, it was sporadic. When she wasn't organizing, Lauren found herself doing the paperwork from home and realized she would enjoy working with a team in an office environment more than working from home.
After talking to friends who had graduated from Nashville Software School (NSS), Lauren knew she wanted a more consistent job where she can collaborate with others on projects. "I was looking for a new career and NSS came highly recommended as the best choice when starting a software development career." Lauren recalls, "After starting the pre-work for NSS, I realized it was something I really enjoyed."
NSS Experience
Just like any career, the community you surround yourself with is key to success in web development. Lauren discovered this quickly as a part of Cohort 35. She speaks fondly of her time in the full stack web development program and describes her favorite part of NSS being "...the friendships I made along the way."
The best part about my time at NSS was definitely the friendships I made along the way."
Capstone Projects
Lauren's love for travel, a passion instilled by her parents, was what inspired her front-end capstone project, Travel Keep. Lauren built this app with React.js. Travel Keep is a place to store all things related to a specific trip including transportation, accommodations, restaurants and places visited. She explains, "My parents were the inspiration for it. I wanted a place where they could keep track of every detail of their trip like where they went, what they saw and did, where they stayed, and how they got there."
Lauren's back-end capstone is called Shelved. She shared her inspiration for her capstone, "I own a lot of books that I want to keep track of but also have a list of books I want to buy when I go to a bookstore. Same with movies and music." Shelved allows users to keep track of their books, movies, and music by adding them to lists. Users can organize their media into lists of Own, WishList, Watch/Read/Listen, and Watched/Read/Heard. She built the application with C#/.NET Core with Entity Framework using Identity. She managed the relational database with SQL Server.
Hire LAUREN!
Lauren is currently on the job market for a full stack or back-end development job. She is a creative thinker and has a passion for people and problem solving.
While on her job search, Lauren is rebuilding her app, Travel Keeper, in C#. She is also learning how to deploy her back-end capstone, Shelved.
You can learn more about Lauren by listening to her podcast or visiting her website.
---
Check out all the recent grads on Web Development Cohort 35's class website and hear the graduates share their journey into development and their experience at NSS in their podcasts below.