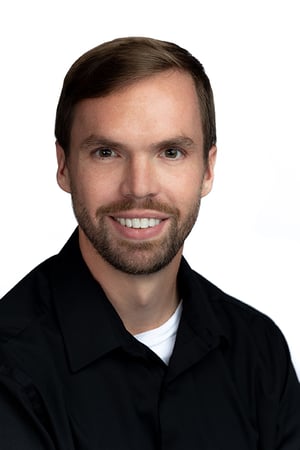 With his love of learning and longtime interest in data analytics, Sam Lawson knew that his education wouldn't end with his undergraduate degree in Music Business. The Navy veteran and MTSU alum considered graduate school, but the options didn't pique his interest or seem particularly useful in the workplace.
Then, one of his co-workers told him about Nashville Software School (NSS).
Sam checked out the website and was excited to find the upcoming part-time Data Analytics Bootcamp. For him, the project-based learning environment just clicked.
I really wanted to learn something using a hands-on approach.
For the past six months, Sam has balanced his work in the music industry with the fast-paced data analytics curriculum; learning Excel, Python and SQL on nights and weekends while working a full-time day job.
NSS EXPERIENCE
During the first two weeks in class, Sam found himself in the trenches with Excel. Learning to write formulas and interrogate data to extract insights and find the story. As he recalls, it was a time of "clearing the mental roadblocks of 'Can I do this?' and 'What did I get myself into?'"
Sam soon found his footing. As he progressed through group and individual projects, his confidence grew. His calm, pragmatic approach to data questions was an asset in the classroom and he soon proved himself skilled at communicating complex concepts and translating data into accessible visual storytelling.
In his advice to future students, Sam emphasizes self-discipline and humility: "Put your head down and work, practice, and be open to criticism along the way. Give everything 100% of what you've got."
CAPSTONE PROJECT
Sam, a Liverpool soccer fan, was inspired by his favorite team's use of data analytics to select new players. He analyzed the European soccer transfer market for his capstone project. Drawing from 10 seasons worth of data, he set out to determine which players had the biggest impact on their new team's results after being transferred. Beyond his main data question, he also wanted to know: "Which teams use the transfer market most effectively? What position do teams spend the most money on? And does spending more money mean winning more games?"
Sam used Python for exploratory data analysis and discovery of his main story points. He then built interactive dashboards in Tableau to visualize his findings.
HIRE Sam
Since graduating, Sam has continued to develop his data analysis and visualization skills. He has explored other data sets and built additional dashboards in Tableau. He'd be thrilled to find a data analytics role in the music industry, however, "I'm not limiting myself to that [field]," he said. "I really just want to find a great opportunity to use the tools I've learned and enjoy using on a day-to-day basis."
Learn more about Sam on his podcast or LinkedIn.
---
Check out all the recent grads on Data Analytics Cohort 1's class website and hear the graduates share their journey into development and their experience at NSS in their podcasts below.