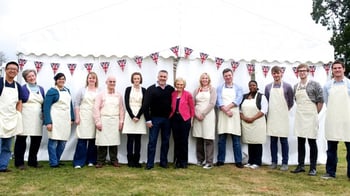 Mary van Valkenburg is the lead Analytics & Data Science Instructor at NSS.
Lately I have been captivated by the BBC's Great British Bake Off (GBBO) on Netflix. With each season a diverse set of 12 British contestants gather under an enormous tent to translate vague recipes into finished baking products. This reminds me so much of software and data product development!
Each episode has a theme and consists of three rounds: the signature challenge, the technical challenge, and the showstopper. The signature challenge is a chance for the bakers to show off a skill they are really good at. It can be simple or it can be complex…it just better be remarkably good. This is akin to a dashboard students in my class are building now. They are using R Shiny to highlight findings from a recent analysis project. This project should show off visualizations and findings that the student feels particularly good about. Nothing super fancy…just clean, solid, and good.
The technical challenge is very much like the first project students complete using a never-before-seen technology. Just as bakers under the tent look like deer in the headlights when asked to bake 12 identical kouign-amann or a dozen dampfnudel or a feathered bakewell tart, our students often begin their projects with a similar countenance. With persistence, support, and the aid of Google their results – like that of the bakers under the tent – is almost always
stunning.
The third and final round each week is called the showstopper. This is analogous to a student's capstone project. Bakers make some truly astonishing stuff in this round – from a chess-themed chocolate and salted caramel dobos torte to a 3-dimensional biscuit creation depicting a ski village. Sometimes, bakers over-reach in this round and fall short amidst tears and wailing. Sometimes they surprise everyone with the end results -- including themselves.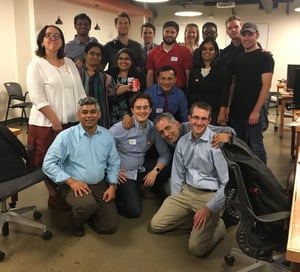 Some of the lessons learned by watching GBBO include always deliver the minimally viable product. If Paul and Mary (the judges – read stakeholders) ask for a 3-tiered cake with three different flavors, you'd better by golly deliver three tiers and three flavors. Even if your two tiers are the most delicious thing ever, you will finish last. Another lesson is to avoid gold-
plating in favor of delivering what has been specified in the requirements. Unless it's the showstopper, your sugar work is not going to gain you a lot. If it's the technical challenge, your stakeholders will be disappointed that you've wasted time on it.
Contestants have a camaraderie that you can watch grow over the 10 weeks. Even though they are competing, they share suggestions, help hold each other's creations as they are glued in place with royal icing, and unreservedly support, cheer, and console each other. It is remarkable, but I've seen it another place -- at Nashville Software School. One last lesson that is mirrored in the work we do: whether a baker won the coveted star baker in the last challenge or nearly got eliminated, each new challenge is an opportunity to start fresh, learn from the past, wipe the slate clean, and go forth with your best effort.