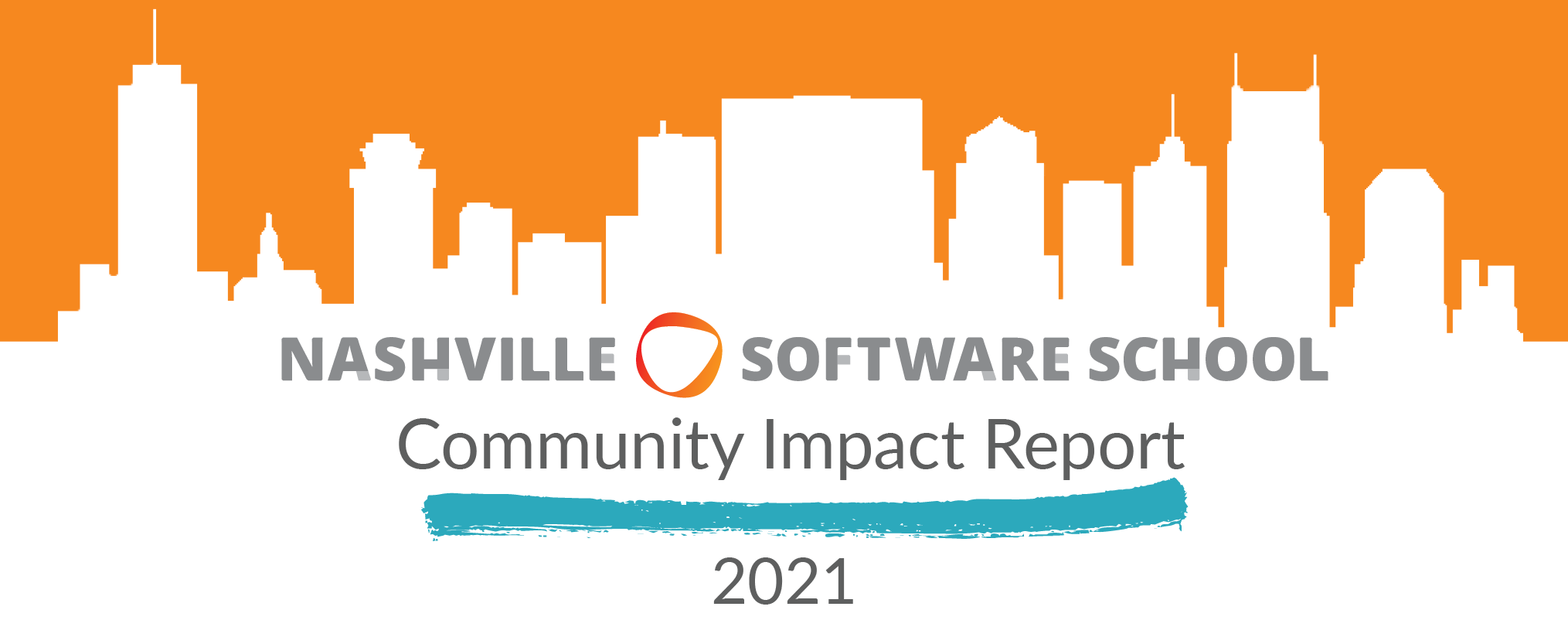 A Letter From The Founder
I write this almost exactly on the anniversary of the graduation of our first cohort of students back in 2012. Those were our first 14 graduates from NSS. Nine years later, we're now up to 1662 graduates from all of our programs. Sometime in our tenth anniversary year - probably right around this time next year - we'll hit 2,000 graduates. That's a bit mind-boggling. But now it's time to take a look back at 2021 and report to the community regarding our impact in the past year and over the prior nine years.
2021 was an interesting year - not as challenging as 2020 when we and our students were forced to move our classes online essentially overnight, but still a year with its own challenges. Around mid-year, we all were starting to think that the pandemic was passing but then we were introduced to the concept of variants and to the idea that the protection offered by the COVID-19 vaccines erodes fairly quickly. So rather than returning to in-person classes, we're still all remote and online. Also, for most of the year we saw the impact of the pandemic and the ongoing financial impact on the economically disadvantaged and financially fragile result in lower applicant rates, especially for full tuition students. Thankfully application rates for most programs seem to have recovered in the last couple of months, which is a good signal looking ahead to our impact in 2022.
More happily, we saw a significant recovery in hiring of our graduates as organizations realized success with remote work for tech talent and as constraints on hiring in most industries were removed. The recovery in hiring was evident from the beginning of the year and resulted in placement rates reminiscent of the pre-pandemic period and steady reductions in average job search times for graduates. Slow placement in 2020 due to the pandemic meant we had a backlog of graduates searching for first jobs as we entered 2021 - thankfully most of that backlog is now gone.
However, not all of that backlog in placements is counted in our recent placement stats due to how the Tennessee Higher Education Commission tracks placements. You can read more about their reporting in our blog post about the 2019-2020 THEC report. While the July 2020 - June 2021 report is not yet available, we estimate our placement rate will be around 84% with all programs combined. This includes 105 graduates who had less than a 6 month job search time between graduation and when numbers were reported. It also doesn't include students who graduated prior to July 1, 2020 who found a job after September 30, 2020.
While this number is about 10% below our all time high in 2018-2019, we are seeing a recovery from the economic impact of the pandemic. In 2018-2019, our full-time Web Development bootcamp saw a placement rate of 94%. The economic freeze for most of 2020 had a large impact on our 2019-2020 placement rate for the graduates of that program with the placement rate falling to 70%. For 2020-2021, we expect the final number to be around 89%. Nearly a full recovery to our record high for that program! And these numbers understate the total placement rate due to longer job search times brought on by the pandemic causing some placements to happen after the official cutoff date for reporting outcomes.
Access To Opportunity
We're making an adjustment in this year's report to the statistics we track relative to how many students benefit from "access to opportunity" from NSS. A word of clarification regarding the meaning of opportunity when used in this context at NSS. It doesn't only refer to how many students are selected for our Opportunity Tuition plan. Rather, "opportunity" refers to how many students benefit from NSS reducing or eliminating financial barriers to attendance at NSS. Historically, this has meant either deferral of tuition until students become employed, or receipt of a partial scholarship from NSS - both are financial relief financed by NSS out of our own cashflow or from scholarship funds we raise from the community. We do not count student loans or NSS payment plans in these totals.
This year we are adding additional categories of financial support to our definition of opportunity. The new categories are a result of partnerships we have established with employers and community organizations where they provide the financing. All provide additional ways that students are able to attend NSS without paying for tuition. Examples include apprenticeships offered to current non-technical employees of one major Nashville company, apprenticeships offered through the Nashville Technology Council's apprentice program, and free tuition offered through the GoTech partnership funded by the State of Tennessee.
We've been running at approximately 50% of students receiving opportunity through NSS-funded options and we're pleased to have other options starting to expand our ability to offer opportunity.
Another one of our mission goals is to open doors to tech careers for individuals from groups that are traditionally underrepresented in tech careers such as software development. Proportionally greater rates of applications from members of such groups has resulted in higher diversity rates in two of the three main categories that we track. Overall, the percentage of minority students in 2021 was up to 58% vs. 52% in 2020. The percentage of women was up to 34.2% from 31% and the percentage of people of color was up to 30.7% from 24%. Only in veterans did we see a slight decrease from 11% to 9.6%.
One thing that we should never do is lose track of the individuals that make up the aggregated statistics. Ultimately the impact from NSS is all about the impact to the individual students in our programs. It's about offering them the opportunity to learn tech skills and what that can mean when they seize the opportunity and launch a new career. It's only with the impact we have with our students that larger degrees of impact can happen to our graduate's family, to our employer partners, to the tech community, and all of the other communities our graduates contribute to. As long as we don't lose track of providing opportunity to one person at a time, each of us at NSS will be able to continue to do our part to create opportunities that impact the lives of our students, our friends and neighbors, and our entire community.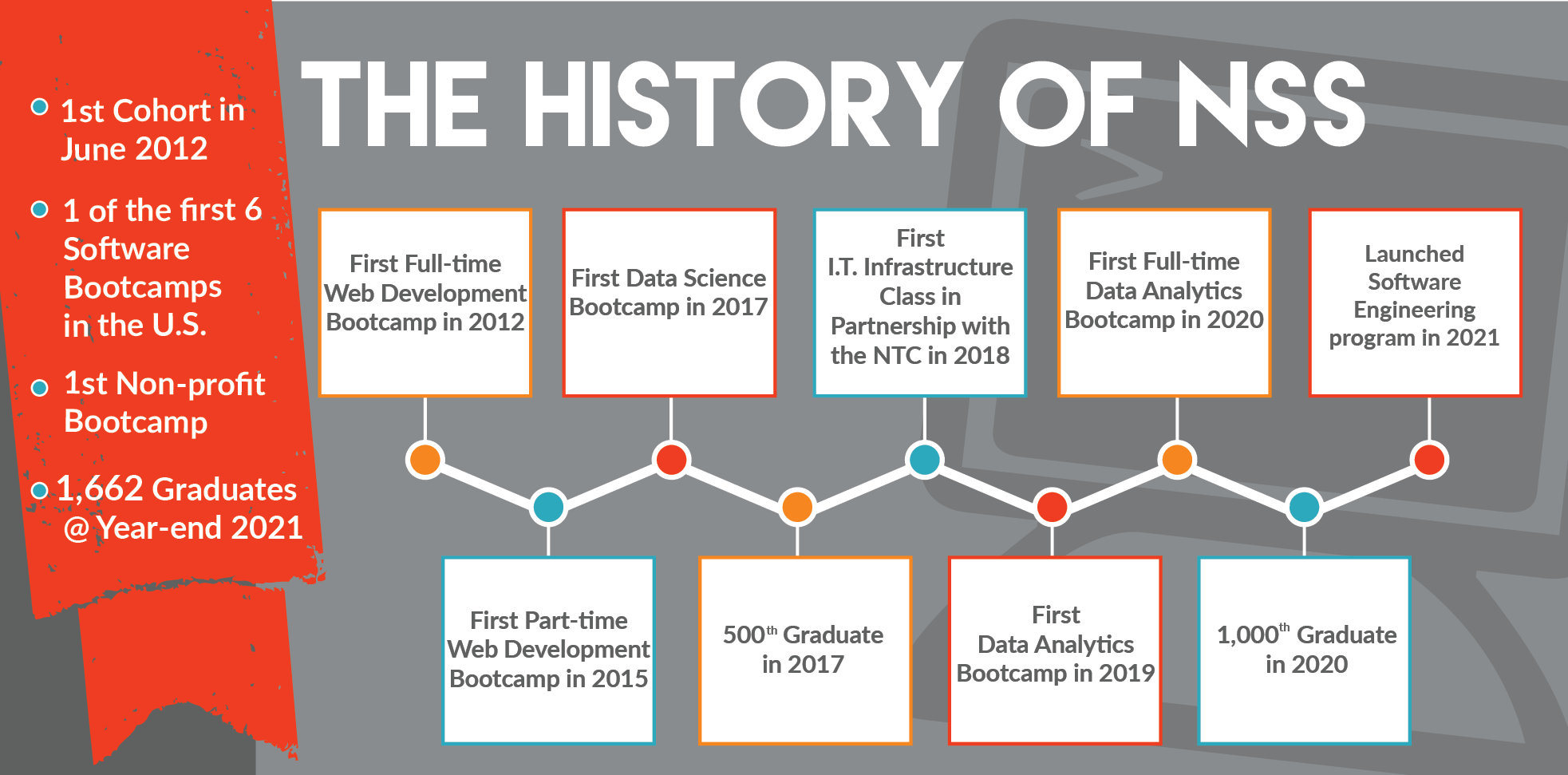 Our first web development cohort was launched in 2012 through collaboration with the community and local employers. 12 of the 14 students in that class were hired into tech jobs using their new skills. Since then, we've continued to collaborate with the community and local employers to launch new programs and keep our curriculum current. It's kind of cool that here in little ol' Nashville we had one of the country's innovators in an entirely new form of tech workforce development - not what was expected from Nashville back in 2012. An innovator not only in terms of the learning approach but also to leveraging nonprofit status as a social enterprise.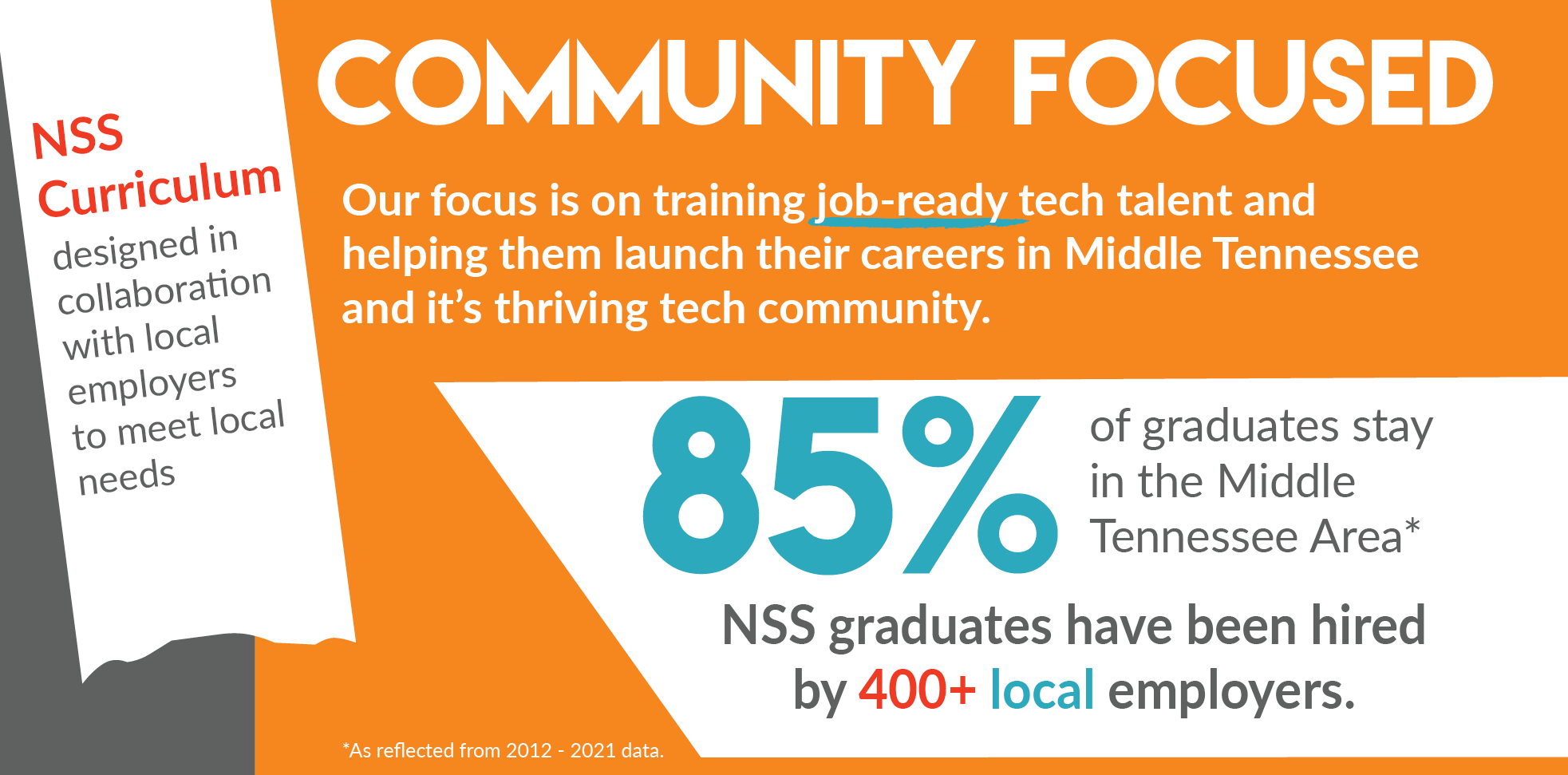 Our focus on Nashville and Middle Tennessee is baked into our mission. By training to meet the needs of local employers, 85% of our graduates stay in Middle Tennessee after graduation and have been hired by 400+ local employers. And while we've focused our recruiting efforts on talent from Middle Tennessee, over the years we've increasingly had students come to NSS from all over the country - to the point that even with graduates that do leave town we are a net attractor of talent to the Nashville area.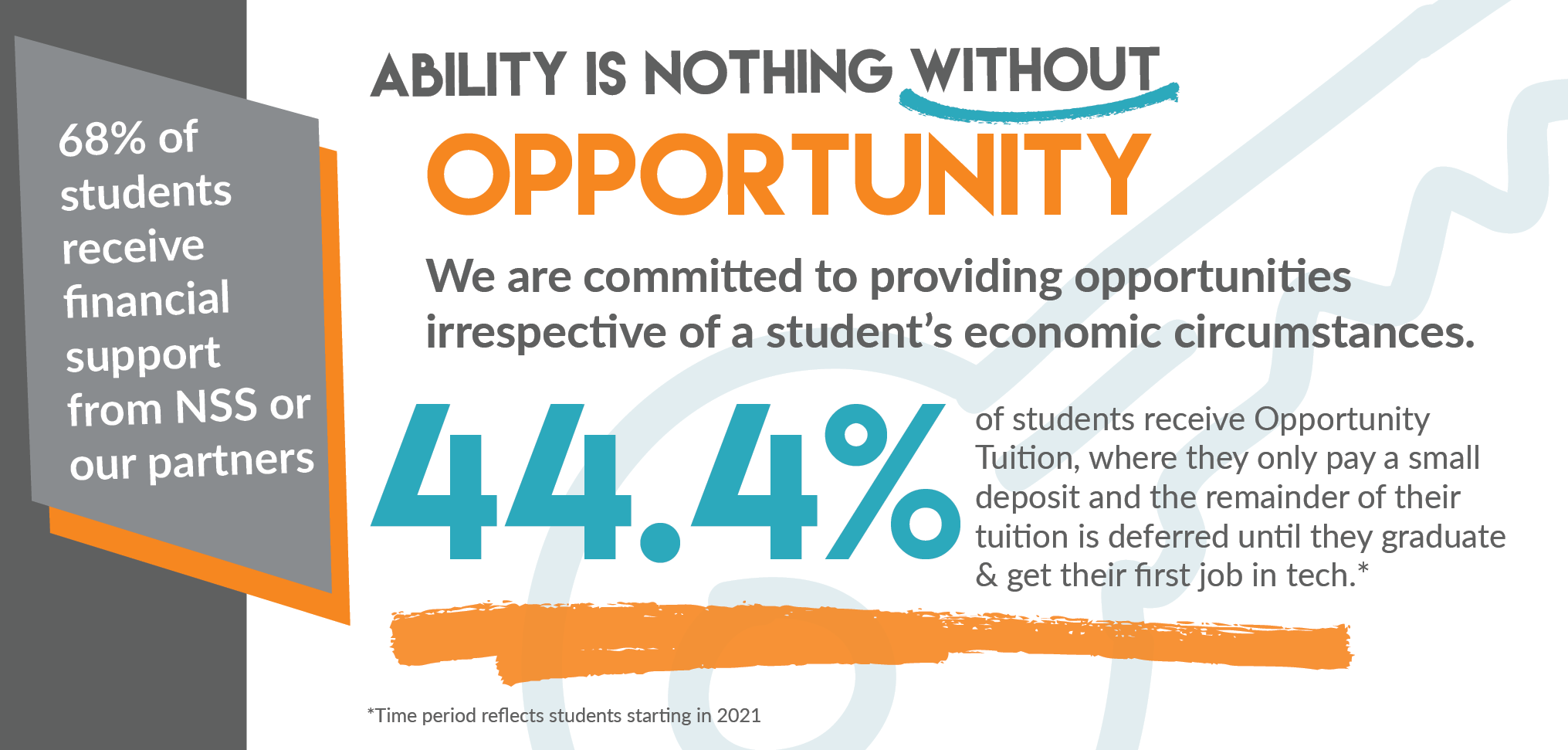 The career opportunities that exist for someone that has learned tech skills are almost unlimited. We are in the business of creating opportunities for our students to launch themselves down those career paths. One part of creating opportunity is opening doors to adults with the aptitude and motivation to pursue a tech career, irrespective of their economic circumstances. We're already helping over half of our students through Opportunity Tuition or other scholarships. When you add in the students that receive "opportunity" through our partnerships with employers or the Nashville Technology Council, the number grows to 67.9%!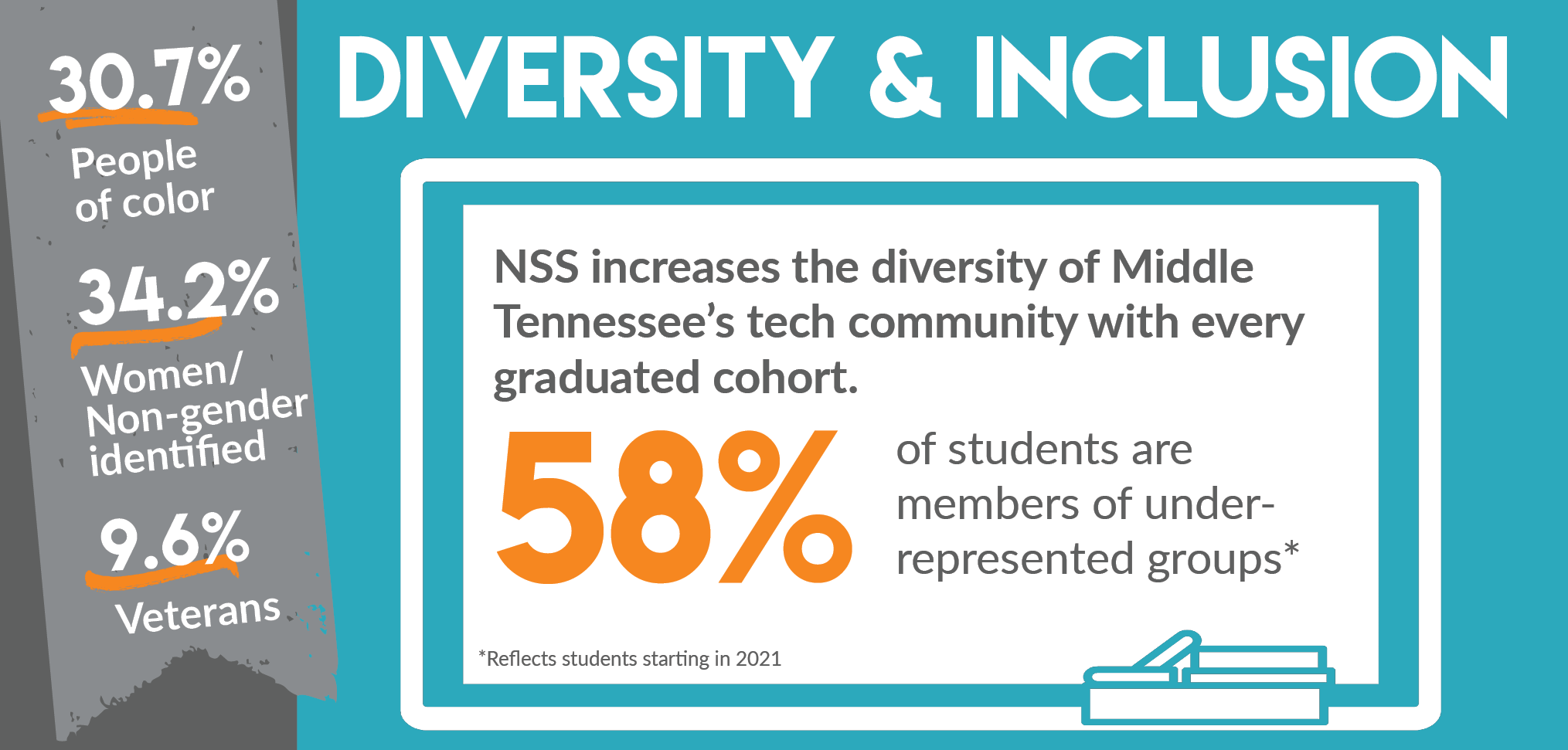 We have made a lot of progress in pursuit of our goal to open a career pathway for individuals from groups that are historically under-represented in tech careers such as women, veterans, Black people, etc. We have reached the point that more than half of our students have been from at least one under-represented group. NSS increases the diversity of our tech community literally with every graduating class.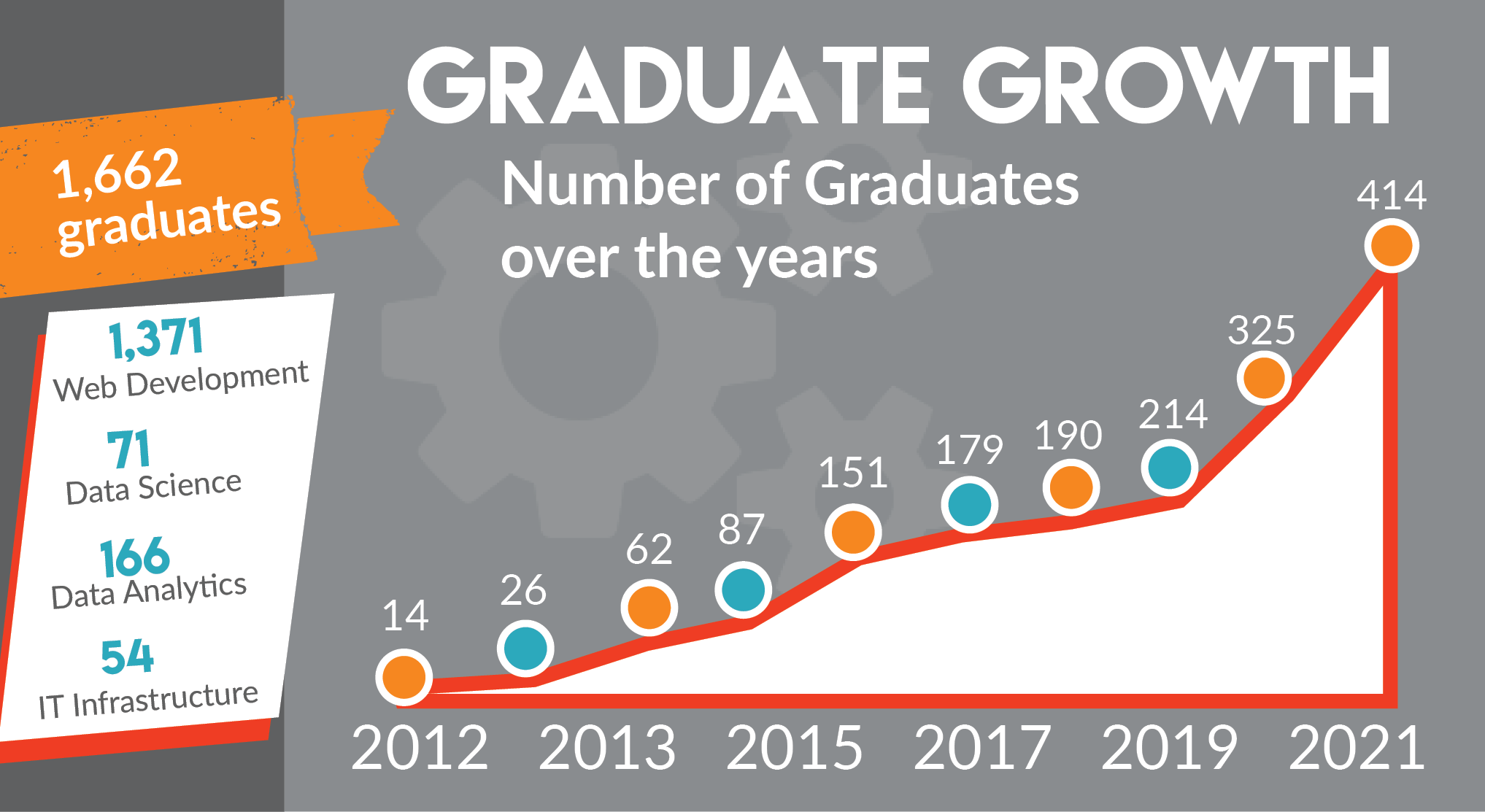 Our graduates come from a myriad of backgrounds. They were musicians, bakers, marketers, warehouse workers, postdocs, stay-at-home parents, baristas, artists...and on and on. It takes courage to step away from what you know to chase a dream of a more rewarding and satisfying career. Watching our students conquer a challenging learning experience and land their first tech job is a constant source of inspiration. It's a real privilege for us to share that experience. And when we see them grow their careers and even come back to NSS to interview and hire new NSS grads - that's just gravy.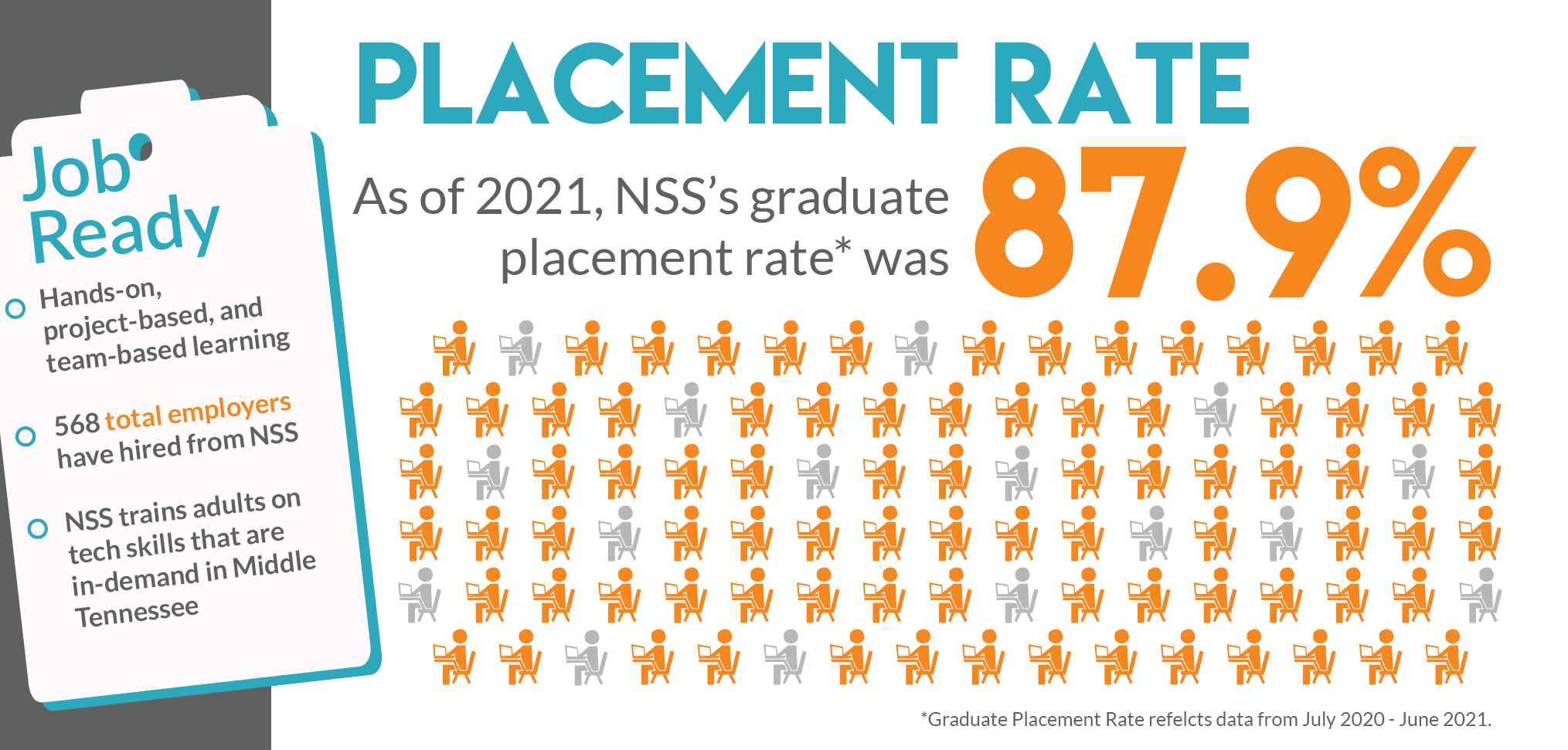 The placement rate of our graduates is another success story. NSS works. Students that come to NSS committed to working hard to launch a new career have a very high probability of success. Less obviously, it speaks to continued growth of the local tech economy. It speaks to the trust that employers have developed in our programs. And it speaks to the breadth of the support that NSS and our students get from the community in the form of mentors, volunteers for mock interviews and leadership panels, and in so many other ways. It speaks to how lucky we are to be serving Nashville and Nashvillians.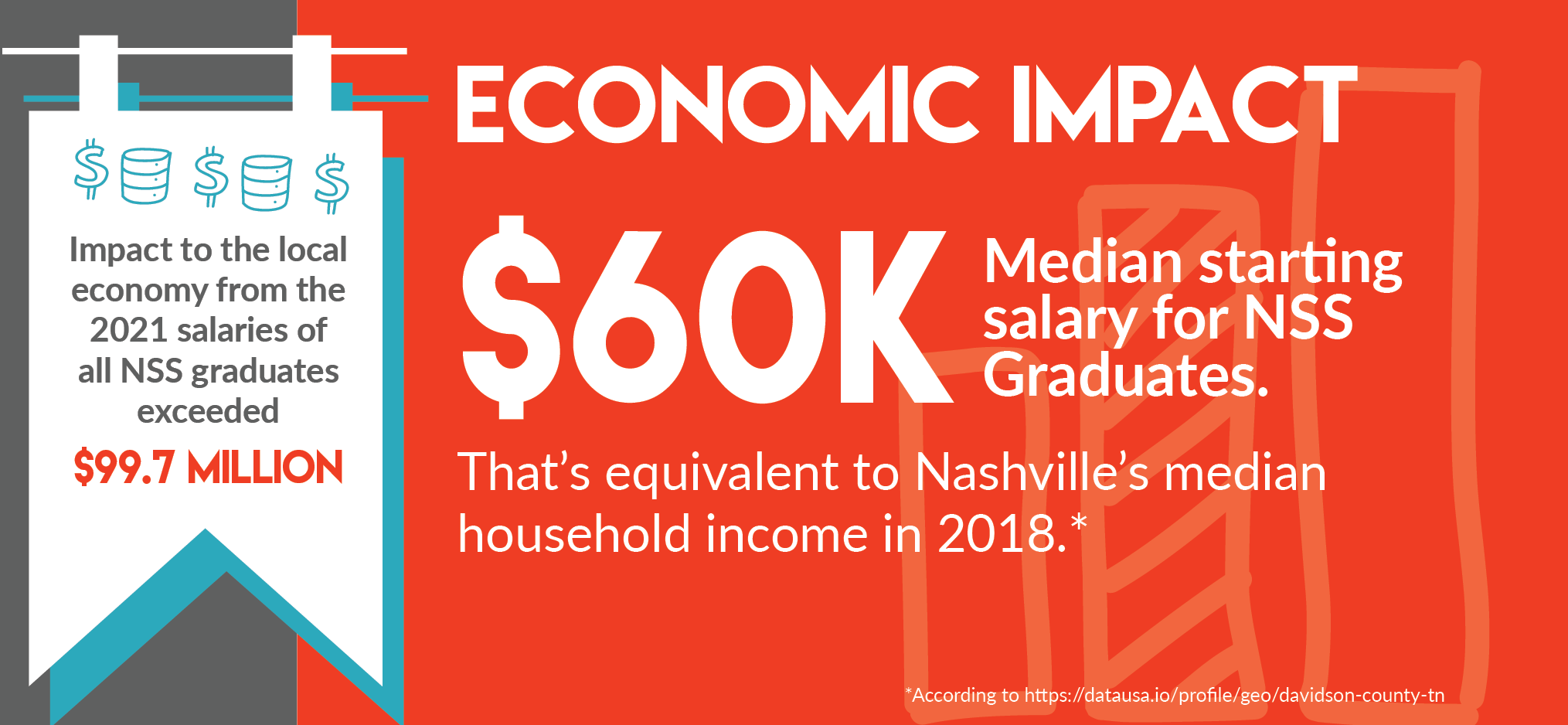 With a median starting salary of $60,000, our graduates' first year income is equivalent to Nashville's median household income during the same time period. For the majority of our students this is a significant increase over what they were earning prior to NSS. It's always exciting when a graduate gets their first job in tech, but the smile on their face when they share they've doubled the salary of their prior job or have never earned this much before is priceless. And that's for their first year in a tech job - their earning potential only goes up from there. Even if you assume that the average 2021 salary of all of our working grads is at that same $60K level, our grads have injected nearly $100 million dollars into the local economy this year - since we know that our grads from prior years have on average been seeing meaningful increases in compensation over the years, the true number is much higher.
---